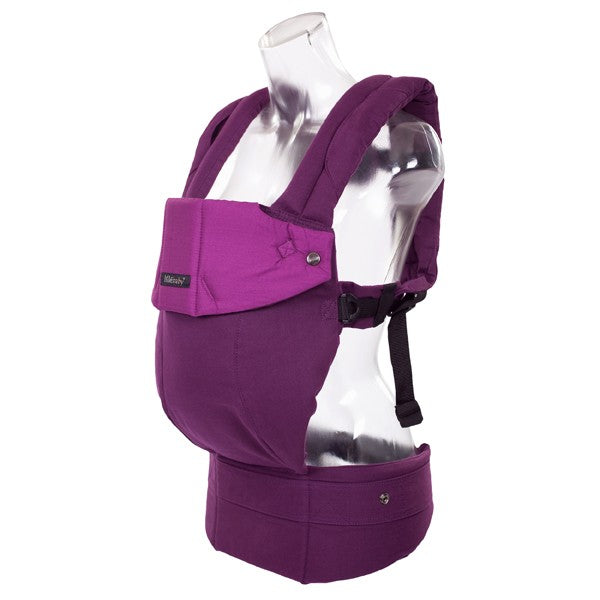 Lillebaby Original Baby Carrier - Purple-Pink
LilleBaby baby carrier in Purple Pink Color from Original Series. 
Lillebaby is available here at BabyStyle Canada in all cute colors and stylish designs. The Lillebaby carrier accomodated babies from new born to 45 pounds. This carrier is made from soft and durable brushed cotton exterior and pampering 100% cotton sateen lining
The award-winning LilleBaby baby carrier has more carrying positions, it is more durable, and comes with more features than any other baby carrier in Canada.
Machine Washable. Constructed to Last. Original and stylish
Designed in the USA
6 Carry Positions - all the carrying positions in one.
Ergonomic Face forward option.
Long life span. Baby weight range: 0-45 lb
Adjustable Wide-seat/Narrow-seat combo
Hood
Ergonomic for baby: Adjustable seat ensures a natural seat adjusted to every age and stage
Comfortable for you: Baby's weight is evenly distributed between your hips and shoulders.
Wide, ergonomic shoulder pads: 3 inches (7.5 cm) wide by 1 inch (2.5 cm) thick premium foam
Wide, contoured waist band with 1/4 inch high-performance foam: 26"-55" (66cm-140cm) circumference range
Extra long, multi-function shoulder straps can cross in the back or be worn "backpack style" - accommodate babywearers from 5' to 6' 6"
Padded buckles
Meet or exceeds safety standards
Light weight! Only 1.34 lbs. (0.61 kg)