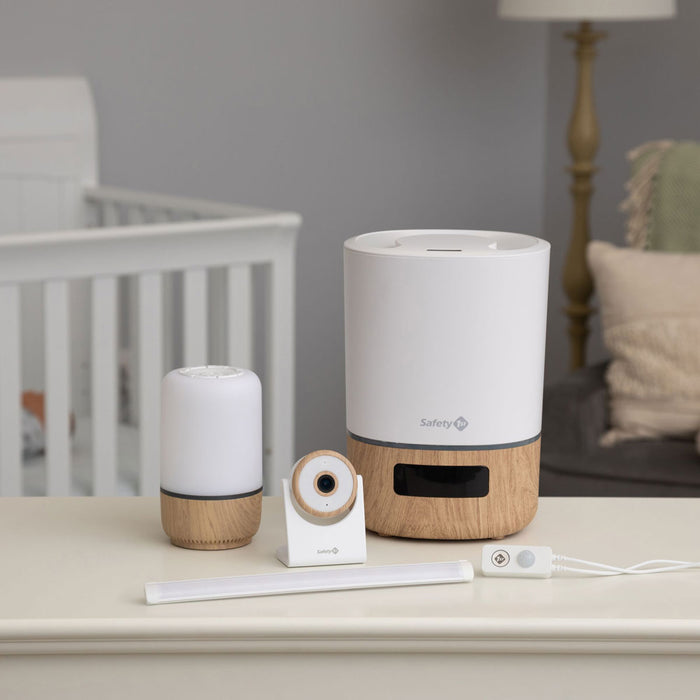 Safety 1st Wi-Fi Baby Monitor MO1730600
Always be right beside your baby with the Safety 1st Wi-Fi baby monitor that gives you better video quality, monitoring versatility, enhanced security - and peace of mind.

Now you can stream crystal-clear 1080p HD video while using less data. The Wi-Fi Baby Monitor also features ultra-clear night vision that lets you see more in the dark. Having the monitor on won't slow down your internet connection.  It's always comforting to look in at your little one at night and see your baby clearly. And the stylish, modern design will blend in seamlessly with the décor in your nursery.
As an added convenience, you can use your mobile phone or tablet as the actual video unit - giving you total control of the nursery from the palm of your hand. The two-way talk back is perfect for those times during the middle of the night when you want to soothe your little one without going into the room. Simply press the button and your little one will hear your comforting voice fill the room. Since you never know what wonderful moments you may capture, it's always nice to have the option to save baby pics and videos. 

Peace of Mind is at your fingertips: The Safety 1st Wi-Fi Baby Monitor, along with all our Connected products, work within the same app, which means everything you want to do is a tap or a swipe away.

Stream crystal clear 1080p HD video while using less data. (Utilizes H.265 video codec, instead of H.264, which allows live streaming 1080p while using less bandwidth than 720p.)
Smart Sound, motion and noise alerts
Two-way talk back soothes from anywhere
Clear night vision even in the darkest rooms
Wall mountable
Shared access with other caretakers
2.4GHz WiFi compatible
Optional cloud or card storage for baby pics and videos. (Includes 30 days free trial.)
Micro-SD capable (card not included)