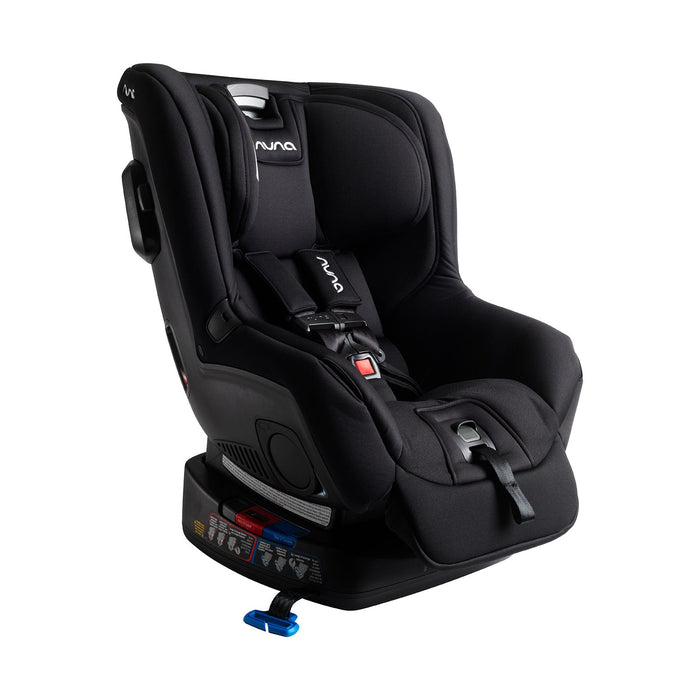 Nuna RAVA Convertible Car Seat
The Nuna RAVA convertible car seat is a practical choice for parents who are looking to make traveling with kids a little easier, whether it's just a short trip to the store or a longer road trip. This toddler car seat is designed to be uncomplicated, so you can focus on enjoying every minute of your travels with your kids.



The RAVA car seat is designed to be easy to install and use, without any bubbles or muscle required. It's simple to switch between rear-facing and forward-facing position, and provides plenty of legroom for rear-facing riders and extra support for forward-facing riders to keep your backseat passengers comfortable as they grow.
RU (weight): rear-facing 5-40 lbs.; forward-facing 25-65 lbs. RU (height): 49" or less.
Simply™ secure installation. Advanced safety technology makes installation swift, secure and straightforward.
Energy absorbing foam and side impact protection (SIP) pods take side impact security to the next level
All steel frame and reinforced belt path for superior protection
Six position recline (1 recline position rear-facing and 5 recline positions forward-facing); no re-thread 5 point harness
One-hand ten position headrest
Infant head and body inserts are removable to grow with baby
Laid back leg room gives up to 2 inches more leg room rear-facing, and extra support for forward-facing riders.
Dual flip-open cup holders
No re-thread two position crotch strap
Simply switch. Moving from rear to forward-facing when the time is right is no big deal.
Bubble-free. Recline angle guides clearly confirm the perfect riding angle.
Muscle-free. True tension™ doors ensure an ultra-secure fit without the struggle.
Colored belt path indicators help decrease risk of user error
Ventilation panels within the shell and breathable (and washable!) knit fabric create a comfy climate for even the longest of trips
Belt is best. Nuna's preferred installation method is the Vehicle Seat Belt as it eliminates confusion of when to switch from Lower Anchors to Vehicle Seat Belt, fits more vehicle makes, and fits more seating positions.
Product dimensions: 19""w x 27.25""d x 27""h"
and up to 49"" tall.
Simply™ secure installation. Advanced safety technology makes installation swift, secure and straightforward.
Energy absorbing foam and side impact protection (SIP) pods take side impact security to the next level
All steel frame and reinforced belt path for superior protection
Six position recline (1 recline position rear-facing and 5 recline positions forward-facing); no re-thread 5 point harness
One-hand ten position headrest
Infant head and body inserts are removable to grow with baby
Laid back leg room gives up to 2 inches more leg room rear-facing, and extra support for forward-facing riders.
Dual flip-open cup holders
No re-thread two position crotch strap
Simply switch. Moving from rear to forward-facing when the time is right is no big deal.
Bubble-free. Recline angle guides clearly confirm the perfect riding angle.
Muscle-free. True tension™ doors ensure an ultra-secure fit without the struggle.
Colored belt path indicators help decrease risk of user error
Ventilation panels within the shell and breathable (and washable!) knit fabric create a comfy climate for even the longest of trips
Belt is best. Nuna's preferred installation method is the Vehicle Seat Belt as it eliminates confusion of when to switch from Lower Anchors to Vehicle Seat Belt, fits more vehicle makes, and fits more seating positions.
Product dimensions: 19"w x 27.25"d x 27"h
How to Install Nuna RAVA Car Seat Product Manual