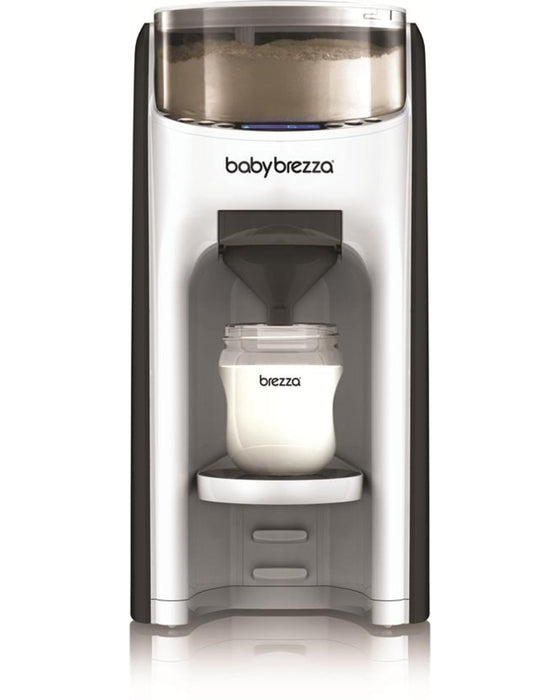 Baby Brezza Formula Pro Advanced
Now available in 2 limited edition fashion colours to match your kitchen décor - Gold or Silver.
The Baby Brezza Formula Pro Advanced is the most advanced way to automatically make a warm formula bottle instantly. No measuring, no mixing and no fuss. You can customize the perfect bottle for your baby by choosing 1 ounce increments, between 2 and 10 ounces, 1 of 3 temperature settings, or dispensing water only. It works with virtually all brands of formula and all bottle brands and sizes. BPA Free.
Formula Pro Advanced. Formula Prep is here.
Now available in 2 limited edition fashion colours to match your kitchen decor - Gold or Silver.
Most advanced way to automatically make a warm formula bottle instantly. Mixes, heats and dispenses formula or water to the perfect consistency INSTANTLY! Saves you 5 minutes or more per bottle vs. manually preparing a bottle.
Patented mixing technology automatically mixes formula and water to perfect consistency
Fully customizable - choose 1 ounce increments between 2-10 ounces, 3 temperature settings and formula/water or water only dispensing
Easy to set up and use with all digital controls. Set up and use is a breeze with all digital controls and an LCD control panel. There are no manual adjustments. Just pick your settings and push the start button.
Provides airtight formula storage for 20 8-ounce bottles of formula powder.
Dishwasher safe, removable water tank. The removable water tank has a wide top opening, making it easy to fill, holds 50 oz. of water, and is easily accessible by using the machine's built-in wheels.
Sleek design. Formula Pro Advanced has a sleek and smaller footprint. In fact, it's 20% slimmer than the Original Formula Pro!
Works with virtually all formula brands (including Similac Alimentum) and all bottle sizes
BPA Free