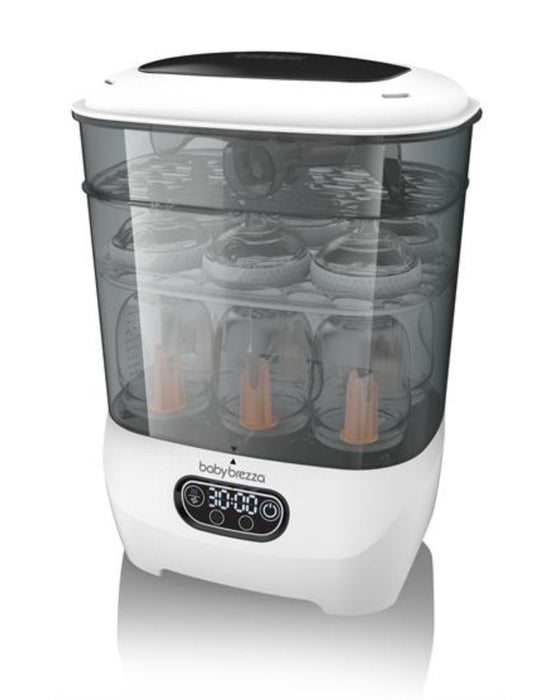 Baby Brezza One Step Baby Bottle Sterilizer Dryer Advanced
The Baby Brezza® One-Step™ Sterilizer Dryer Advanced. The most advanced way to sterilize and dry all brands of bottles, pump parts and accessories.
Using natural steam, the One-Step™ Sterilizer Dryer Advanced kills 99.9% of the germs in your baby's bottles and automatically dries 33% faster (versus Baby Brezza One Step Sterilizer Dryer). The sterilizer includes a HEPA-filter, so the dryer uses clean air that's 99.9% free of germs. Bottles will remain sterile for up to 24 hours, when left in the unopened sterilizer. An easy-to-use LCD control panel allows you to select from 4 different functions: Sterilizer and Dryer, Sterilizer Only, Dryer Only or Storage. The modular mix & match configuration, use it 4 different ways to meet your needs, features two baskets and a unique tray, which will hold up to 8 bottles and 2 full pump part sets, plus accessories.
Automatically sterilizes & dries bottles, pump parts and accessories - natural steam quickly kills 99.9% of germs.
Dries 33% faster (versus Baby Brezza One Step Sterilizer Dryer) - choose from 3 drying times
4 in 1 functionality: sterilize & dry, sterilize only, dry only & storage. Items remain sterilized for 24 hours.
HEPA-filter ensures dryer uses air that's 99.9% bacteria-free
Universal - works with all brands of bottles, pump parts and accessories
Easy to use LCD control panel
Largest capacity - holds up to 8 bottles and 2 full pump part sets, plus accessories
Modular mix & match configuration. Includes 2 baskets & 1 unique accessory tray to hold even more accessories.
Stainless steel heating plate protects against rust and hard water build-up
BPA free