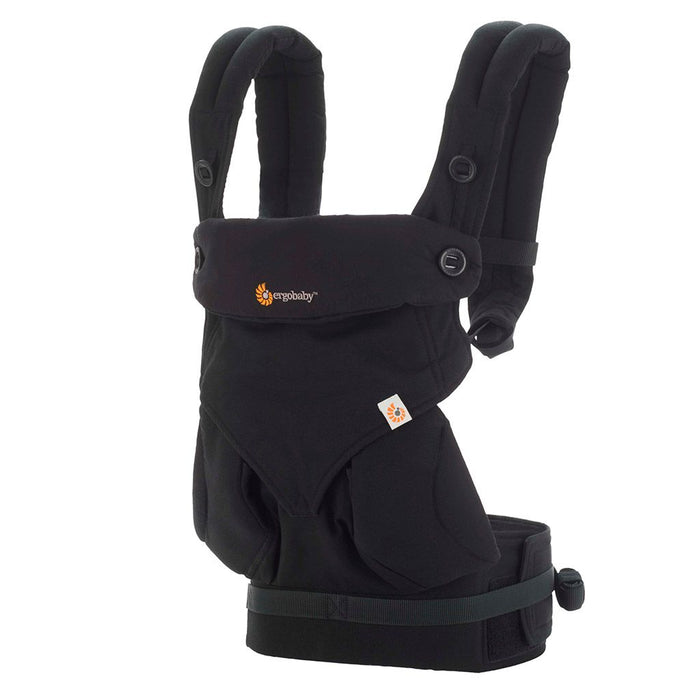 Ergobaby 360 Baby Carrier - Pure Black
Your little one will love exploring the world in Ergobaby 360 baby carrier. This revolutionary carrier provides four comfortable and ergonomic ways to wear baby: Front-Inward, Front-Outward, Hip and Back carry positions.
Available in different designs the carrier is sure to fit any style. Black-Camel, Grey, Green and all new Dusty Blue colors are available.
The structured bucket keeps the baby's body in ergonomic position ensuring baby's spine in curved "C" position. Button adjustments are great features letting parents adapt the seat width to the baby's size & position
Front/Inward Facing Infant Insert (Not included): 0-4 months, 7-12 lbs
Front/Inward Without Infant Insert: 4-24 months, 12-26.9 lbs
Front/Outward Facing Without Insert: 5-12 months, 14-22 lbs
Front/Hip Facing Without Insert: 6-24 months, 17-26.9 lbs
Front/Back Facing Without Insert: 6-36 months, 17-33 lbs
Baby can sit in four different ergonomic position
Provides maximum comfort for parents
Provides comfort and proper ergonomics for baby
Wide Velcro waistband can be higher or lower on the waist providing extra support for the low back
Padded shoulder straps help evenly distribute baby's weight.
Sleeping hood provides support for baby's head while sleeping, protection from sun and added privacy while nursing
Made of 100% cotton and machine washable