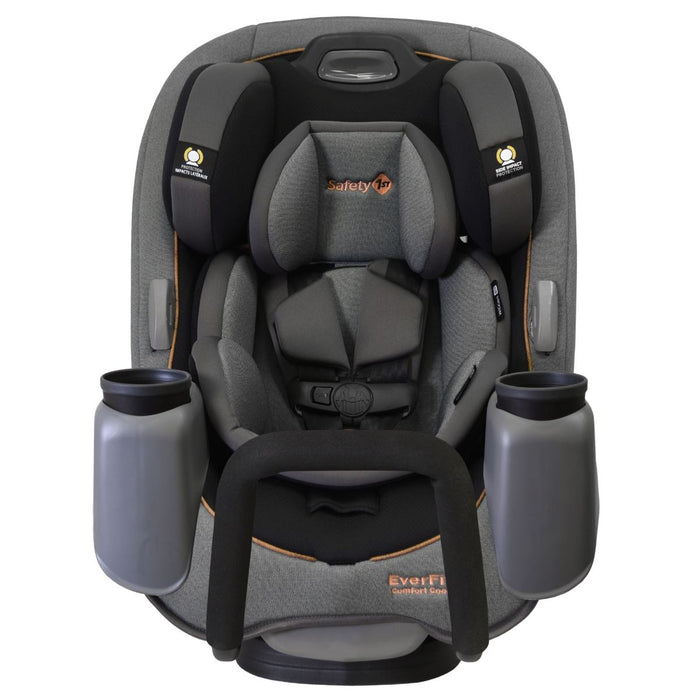 Safety 1st EverFit Comfort Cool Car Seat - Stone Terra
The EverFit ARB 3-in-1 Car Seat with Comfort Cool™ Technology is built to fit your child at every stage from 5 to 100lbs providing superior protection every step of the way!  Give your child a safe and comfortable ride through three different stages, plus an extended use in each stage: including 40lbs rear-facing and up to 100lbs as a booster seat.

Rest assured that your child is not only safe, but comfortable and content with Comfort Cool Technology: cooling fabric for breathability, wicking fabric for quick evaporation to keep your child dry, and a reversible pad insert that is plush on the other side for a warm and cozy texture when the temperature changes.

In the rear-facing stage, the padded Anti-Rebound Bar (ARB) adds an extra measure of safety by preventing the car seat from over-rotating in the event of a sudden stop or crash.  In forward-facing mode, remove the ARB and EverFit secures your child in a harness up to 65 pounds. The QuickFit™ Harness System lets you adjust the harness height and headrest together as they grow with one hand, in one easy step.  Frustration-free harness holders keep the harness out of the way when getting your child in and out of the seat, making the process easier and less of a struggle for both you and your child.  When your child is eventually ready for booster mode, tuck-away the harness system and use the vehicle seat belt up to 100 lbs. Buckling up is easy with the clearly visible seat belt path guiding the way.

The seat pad is also simple to clean with a snap-off, machine washable and dryer safe cover that is easy to remove from the seat. No need to remove the harness or uninstall car seat. The two removable soft-rimmed cup holders twist off easily and are dishwasher safe too!


In each mode, Side Impact Protection in the headrest and deep side wings provide enhanced protection of your child's head in a side impact crash.

Comfort Cool Technology from Safety 1st, the brand that invented the category

BUILT TO FIT YOUR CHILD AT EVERY STAGE! Stage 1 - Rear Facing 5-40 lbs, and 19-40"

Stage 2 - Forward Facing 22-65 lbs and 29-49", Stage 3 - Belt Positioning Booster from 40-100 lbs and 43-52"




PREMIUM COMFORT - Comfort Cool Technology provides added comfort with a breathable fabric that cools, wicking fabric to pull moisture away and keep your child dry, and a reversible pad with a plush side when they need to be warm and cozy.

Pillow inserts and padded harness covers also help keep baby cozy and snug.

Side Impact Protection for enhanced protection that exceeds federal standards

ENHANCED SAFETY WITHOUT THE ENHANCED PRICE. Padded Anti-Rebound Bar (ARB) to use in Rear-Facing mode prevents over-rotation in a sudden stop or crash.

Easily removes for forward facing use. Anti rebound bar is typically a feature seen in premium priced car seats.

Two integrated, removable soft grip cup holders hold drinks and snacks that twist off easily and are dishwasher safe

Clearly visible booster belt path for easier buckling in booster mode

8. QUICKFIT™ HARNESS SYSTEM! Simply loosen the harness straps and squeeze the button on the headrest to adjust the harness height and headrest together in 1 quick step. No need to uninstall the seat.

PARENT FAVOURITE! Frustration-free harness holders prevent the straps from getting stuck under your child, making it easy to get in and out

One-Click-Connect Universal Anchor System (UAS) equipped for quick attachment and removal

EASY FIT - Narrow base and 3-position recline makes it easy to get a good fit in your car

A SNAP TO CLEAN! Machine washable and dryer safe seat pad, unsnaps and lifts away quickly from the seat frame for truly easy cleaning

Can be installed with vehicle seat belt or UAS

Meets or exceeds all Canadian regulatory standards including CMVSS 213, 213.1, 213.2

MADE WITH THE HIGHEST QUALITY MATERIALS and tested to structurally withstand our extreme Canadian temperatures

1 Year Manufacturer's warranty