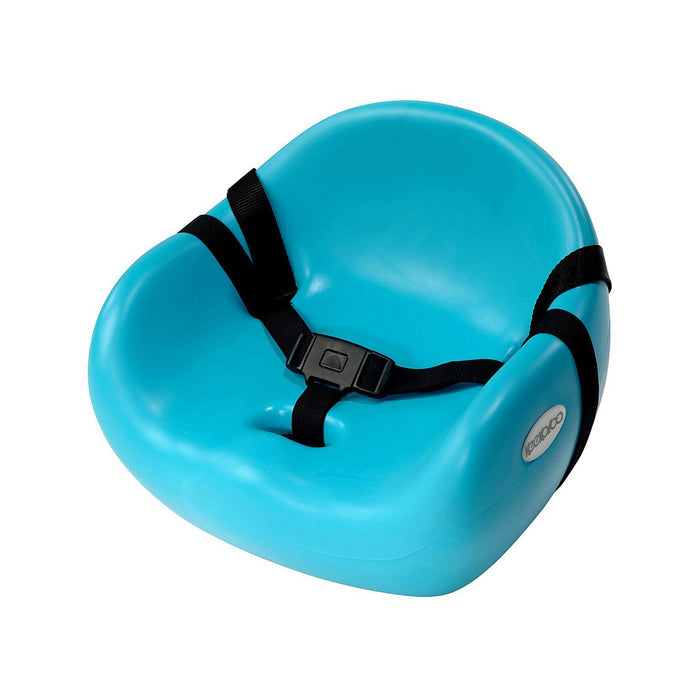 Keekaroo Cafe Booster Seat - Aqua
The Keekaroo  Café Booster Seat is a popular item in Canada this year. This products is created with a unique design which makes this booster seat Soft-to-the-Touch. Unlike other booster seats this seat is made with a latex free seamless material. Not only are the child booster seats resistant to tears and peels, they are also impermeable to liquids. Let your children spil food and drinks all day and the mess will remain on the surface of the booster seat. They have been tested by the messiest eaters and approved by parents. 
Easy to clean, easy to use toddler booster seats can be used with most dining room chairs.  Be sure that your child will be safe and comfortable with the special security straps on the The Café Booster which can be used on any chair. The 3 point safety belt buckles your child in for a wild dinner time ride! The Café Booster provides a soft cozy seat for your child with the quality Keekaroo products boast.
Main features
Straps included to attach Café Booster to any chair
Latex Free Seamless Material
Soft-to-the-touch material creates a comfortable seating option
Peel-resistant and tear-resistant
Impermeable to fluids
Skid resistant bottom
High Back for proper posture
Softness conforms to odd surfaces
Gentle to delicate seating surfaces (antiques, caning)
Easy to Clean