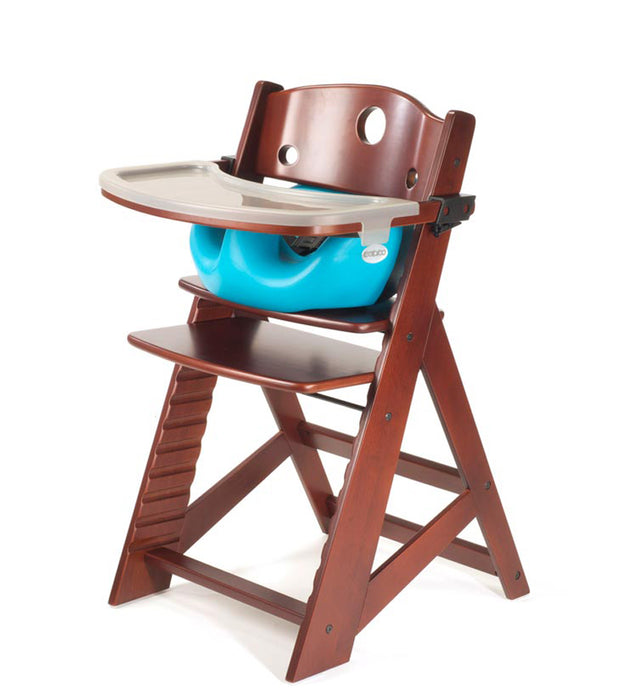 Keekaroo Kids Chair Infant Insert - Aqua
Safety and security are number one priority with Keekaroo. The Height Right™ Wooden High Chair offers a great seating experience for children to adults. With the addition of the Infant Inserts, smaller children can enjoy the comfort of the seat too. The Infant Insert from Keekaroo is designed to offer a safe high chair seat for babies. As babies learn to sit on their own, they are unstable and using an infant high chair can be worrisome for parents. With the Infant Insert, sitting your child in the Keekaroo Wooden High Chair lets parents breathe easy.
The insert is made to support small children by having a pommel in between the legs to keep them from scooting out. The 3 point safety belt keeps the little one safe amd secure. It also has higher sides to prevent the child from leaning to one side.
To ensure maximum comfor for your child, Keekaroo utilizes an exclusive process that is made in the USA. This process uses soft-to-the-touch materials that are impermeable to fluids and peel-and tear-resistant.

Main features of the infant insert   
Infant Inserts are made from an exclusive process and are made in the USA.
3 point safety belt included with Height Right Chair is used to secure child while sitting in the Infant Insert
Pommel to help prevent scooting out
High Sides to help prevent leaning
Latex Free Seamless Material
Soft-to-the-touch material creates a comfortable seating option
Peel-resistant and tear-resistant
Impermeable to fluids
Easy to clean

    Dimensions:
    Inside of seat: 10" x 8"
    Outer seat: 13.5" x 13.5"
    Seat of chair to seat of booster height: 3 inches
    Overall insert height: 5.5"


Safety Information: Keekaroo is a Member of the Juvenile Products Manufacturers Association (JPMA), and the Keekaroo Height Right Wooden High chair is test certified to the American Society for Testing and Materials (ASTM) standard F 404 – 07, Standard Consumer Safety Specification for High Chairs.
The Height Right Kids Chair is certified to the latest JPMA Standards which requires the use of our Infant Insert Cushion when the Wooden Tray or Grab Rail are in use by a child under 3 years of age.