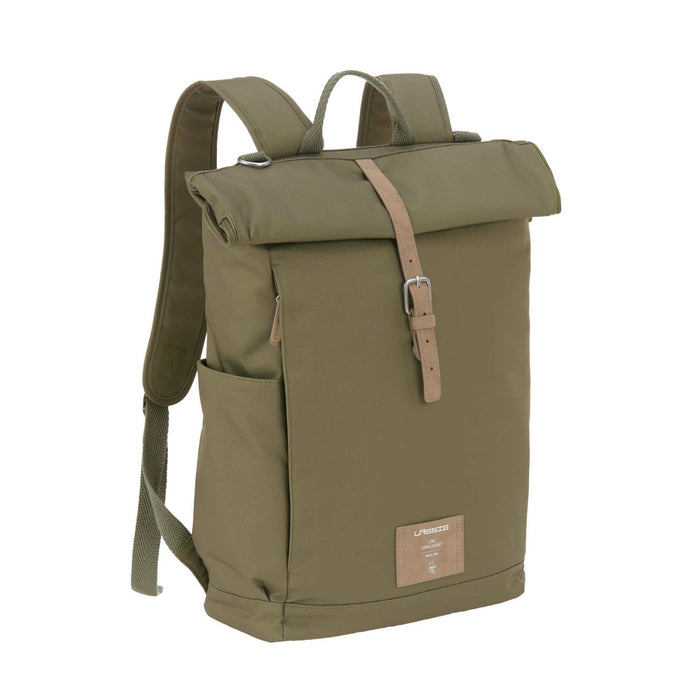 Lassig Green Label Rolltop Diaper Backpack
Quite flexible. LÄSSIG's Rolltop Backpack Diaper bag from the Green Label collection impresses with its plain silhouette, sustainability and extra space.
The sustainably produced vegan diaper backpack provides flexibility thanks to its rolltop-style opening. After you have finished packing and find something else you need, you just roll open the top and there you have additional space, especially for long items – so no hassle! The volume of the backpack can be increased from 15 to up to 24.8 liters by simply rolling it up. When rolled up the bag closes with a simple magnetic catch.
You have quick access to the interior with the zipper along the entire length of the side. A wet pouch at the front, a zipped pocket at the back and practical accessories, make it the ideal accessory for parents.
Equipped with a water-repellent changing mat, an insulated bottle holder, removable jar holder, stroller attachments and a small utensil bag, you have everything you need when on the go. The many different practical compartments that are accessible from both the inside and outside, help you to stow away your utensils as you like.
Extra plus points: The Rolltop Backpack is 100% recycled polyester from the textile brand Waste2Wear. This needed 38 recycled PET bottles to be processed.
LÄSSIG made a deliberate choice to cooperate with the textile brand Waste2Wear when selecting the material. This company is committed to producing environmentally friendly materials from used, recycled plastic bottles in a fully certified and transparent value chain. Additionally, their goal is to use plastic waste from the oceans or collect it before it lands there in the first place.

DIMENSIONS

Length: 30 cm
Width: 14 cm
Height: 46 cm
Weight: 0.96 KG