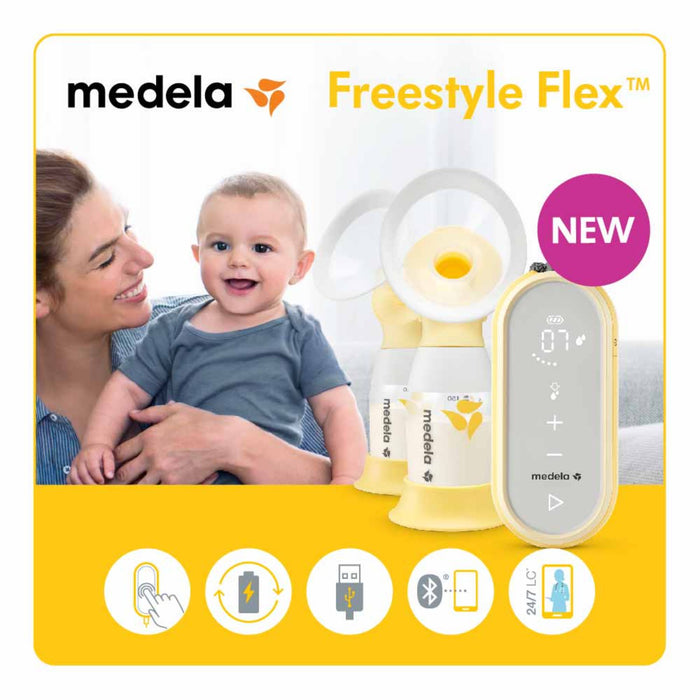 Medela Freestyle Flex Double Electric Breast Pump
Medela's Freestyle Flex Breast Pump is a double electric daily use pump designed for the on-the-go mom who pumps several times a day.
Freestyle Flex is designed to fit your active lifestyle: it's light, compact, and has a USB chargeable battery to give you the flexibility to express wherever and whenever you like, with no compromise on pumping performance. Weighing less than 1 pound, you can simply slip it in your purse or baby bag and you're ready to get on with your busy day!
Like all Medela breast pumps, Freestyle Flex is built with 2-Phase Expression Technology to help moms produce more milk in less time. This convenient, all in one solution gives you everything you need to pump on-the-go including a USB charging cable and a modern touch screen display that allows mom to easily track and record pumping sessions through our free MyMedela app.
Freestyle Flex also comes with our PersonalFit Flex Breast Shields to promote increased milk flow and provide more comfort while pumping.
What's Included:
1 -breast pump with rechargeable lithium-ion battery;
4 - PersonalFit Flex breast shields (21 mm & 24 mm);
2 - connector sets;
4 - 5 oz/150 mL bottles with lids;
2 - bottle stands;
1 – tubing;
1 - carry bag;
1 - cooler with cooling element;
1 - power adaptor with USB charging cable; (Easy Expression Bustier Sold Separately).