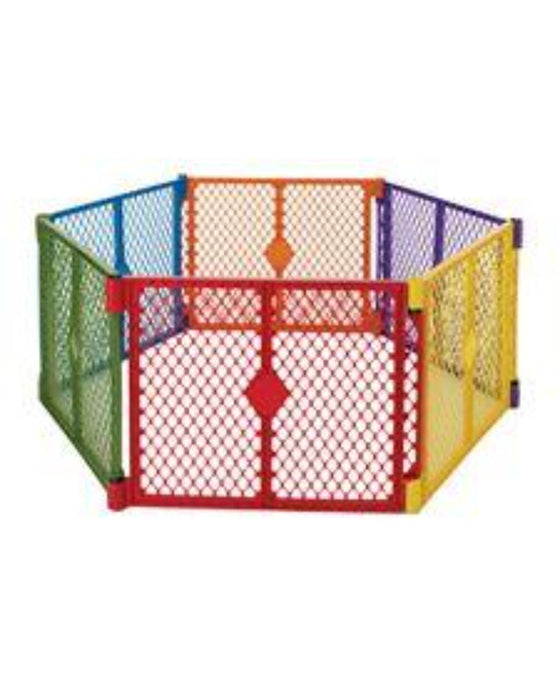 North States Superyard Colorplay
Now that baby's on the move, create a safe and engaging play area anywhere–inside or out–with the brightly colored Toddleroo by North States® Superyard Colorplay®. The high-quality, six-panel yard encloses up to 18.5 square feet and is 26 inches high. Won't slip or scratch, works on any surface. The Superyard Colorplay sets up in seconds, and the convenient carry handle makes this lightweight yard easy to bring the fun with you. To increase the play area, a Two-Panel Extension kit is available separately. Toddleroo by North States products are solidly constructed from the highest-quality materials to withstand rigorous day in, day out use.
Hardware Mount: The six-panel play yard can now act as an extra-wide barrier with the use of a Superyard Wall Mount Kit (model 868700 sold separately). It's the perfect solution for homes with open floor plans or large spaces that need blocking off. Fits openings from 38 1/2 inches to over 16 feet wide.
FEATURES
Location: Free-Standing Enclosure, Various
Width: Encloses up to 18.5 square feet, or over 5 feet across corner to corner
Mounting: Free-Standing
Height: 26″
Material: Plastic
Versatile: Use it to keep children or pets safe in their own play area indoors or outdoors
Portable: Lightweight plastic panels are easy to set up and fold up quickly for transport or storage. No tools required
Expandable: Add Two-Panel Extension (model 868762 sold separately) to increase play area to 34 sq. ft.! (eight-panel maximum)
The safe, high quality brightly-coloured play area.
Use it to keep kids or pets in or out of an area, or to protect displays etc.
Remove one two-panel section to make a smaller, four-panel playard.
Non-slip pads work on any surface and will not scratch hardwood floors
Assembly Tip: As you unfold each panel, you will hear a clicking sound which is the self-locking positioning feature. This intended feature gives the play yard added strength and stability.
Recommended use: for children 6-24 months of age