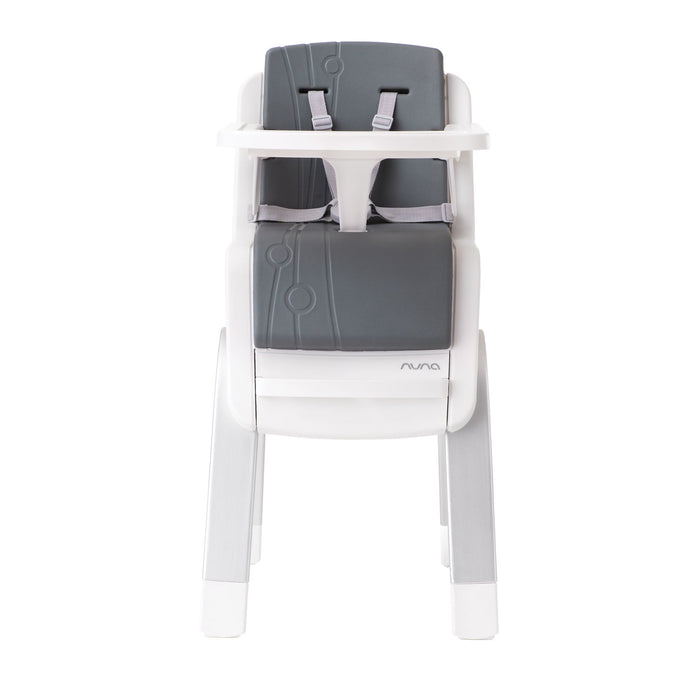 Nuna Zaaz High Chair - Carbon
The Nuna ZAAZ is a stylish high chair that is perfect for both everyday mealtime and the inevitable juice box battles. Designed with both practicality and style in mind, this innovative chair is built to grow with your baby for many years of chic, sturdy mealtimes.

The ZAAZ is not only safety-tested, but also comfortable, customizable to fit any size, and will match your parenthood lifestyle. As a mother, you can trust that this high chair will be a valuable addition to your home.
For children able to sit upright unassisted, up to 220 lbs.
Sleek aluminum leg base, chic colour and a smart look makes the ZAAZ feel like designer furniture!
Hidden lift behind footrest adjusts height easily and lets baby join in at the table; 3- or 5-point anti-loop harness, featuring quick click release button provides ultimate safety and peace of mind.
Unique air-foam cushion custom-fits each chair and pads both small and bigger bottoms.
No-crevice design outwits crumbs and cleans up like a dream.
Weight of the product: 10.42kg
Height of the tray: 74-67cm
Dimensions of the product: 87/81 cm high x 45 cm wide x 58 cm deep