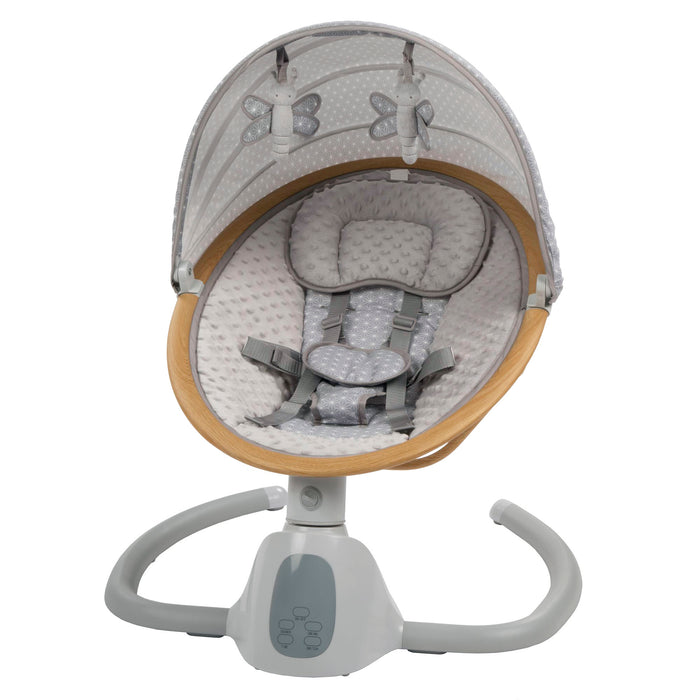 It's time to get dinner started but your little one is fussing and your oldest child needs help with their homework, and of course, your partner is nowhere to be found. Let the Safety 1st Amherst Swing be your answer whenever you find yourself wishing for an extra set of hands.
With its Bluetooth enabled digital touch screen and remote control, you'll be able to quiz your oldest on spelling words while easily changing the baby swing's speed or built in music with the remote, or play your baby's favorite songs from your smart phone while the swing is in Bluetooth mode – That's one smart swing for busy parents;
This exceptional baby swing also features a deep seat with incredibly plush fabric for baby's comfort, a removable canopy with plush toys to entertain your baby, a removable infant pillow, and an adjustable 5 point safety harness for your peace of mind and remarkable comfort and safety.
The Safety 1st Amherst newborn swing offers plenty of options to soothe your little one; 5 different modes of speed, 10 built in soft melodies, and 3 set timers offers you plenty of options to soothe your little one at their fussiest. 
Product Information
[NEXT STEP TECH]– The Safety 1st® Amherst Swing sports a user-friendly digital touch screen, Bluetooth connectivity to your smartphone to play music of your choosing when enabled, and remote control that easily adjusts swing modes when out of arms reach.
[SWING MODES]- The Safety 1st® Amherst Swing features 5 modes of swing angles and the ability to lock in place for stationary use, and 3 set timers: 15, 30, or 45 minutes
[COMFORT] – Plush cushioning and soft fabrics line a removeable infant headrest combined with a deep seat and 5-point safety harness and covered crotch strap cradle your baby with maximum support, comfort, and safety in mind.
[SOUND OF MUSIC]- The positive effects that music has on babies is surprisingly diverse, that's why the Safety 1st Amherst baby swing includes 10 pre-recorded songs plus the ability to play your babies favorite songs from your smart phone via Bluetooth!
[TOY CANOPY]- Safety 1st® Amherst Swing features a removeable Canopy with Cute, soft, plush toys; a wonderful feature for encouraging developmental milestones during your baby's time inside.  
For babies from birth to 20lbs 
*Powered by AAA batteries (not included) or AC adaptor.
 *Remember– Never let babies sleep in baby rockers, bouncers or swings unsupervised - always put safety 1st