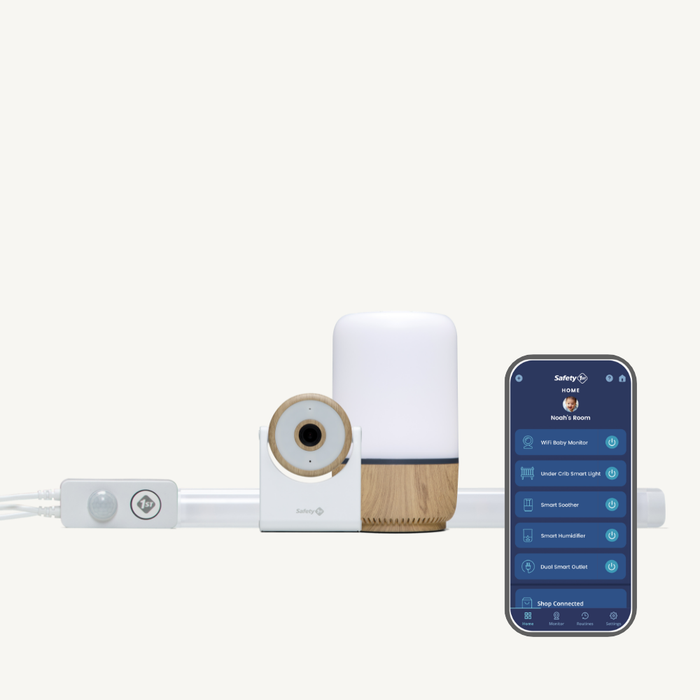 Safety 1st Connected Comfort Trio
(Monitor, Crib Light, and Lights and Sounds machine)
The Safety 1st Connected App is the only app that empowers parents to create the optimal environment with minimal effort from high-tech premium features; from setting the mood, monitoring your baby, and comforting their needs—anytime, from anywhere. This easy-to-use, family-friendly app seamlessly controls and manages every device in the Connected Suite, giving parents the confidence and peace of mind, they need to stay connected to their child, and the response-ability, even when they're apart.
Safety 1st Connected Nursery Comfort+ Trio Suite: with 1080P Wi-Fi Baby Monitor |Under Crib Smart Light | Smart Baby Soother
iOS & Android Compatible, and works W/Alexa, there isn't much room for failure! Experience the Safety 1st Connected Nursery Comfort+ Trio Suite today, for your healthy dose of helpful, convenient, connectivity! You won't believe your parents did it any other way! 
Product Information
Wi-Fi and app-controlled
Adjustable LED color and brightness
Quiet operation with digital controlsB23
Night light and sound machine
Stream crystal clear 1080p HD video while using less data.
iOS & Android Compatible
Voice control works with Alexa or Google Assistant