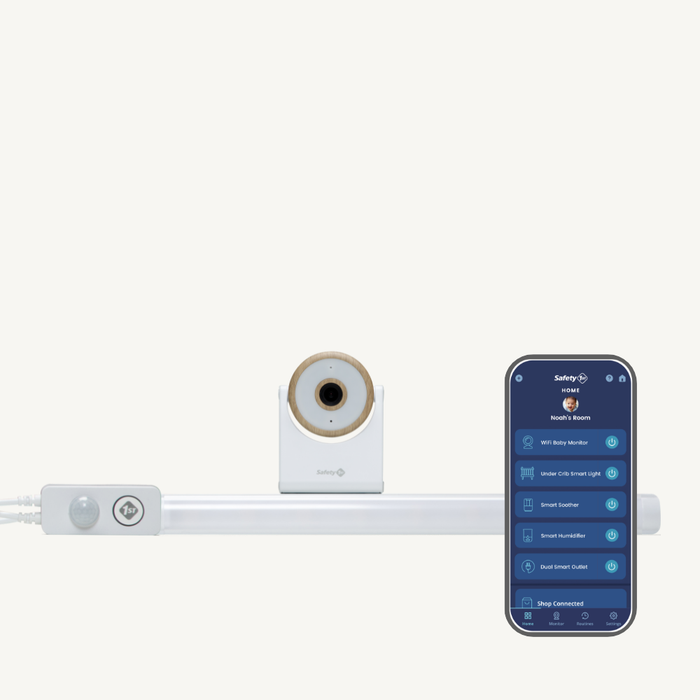 Safety 1st Connected Illuminate Duo
 (Monitor and Crib Light)
PARENTING MORE CONNECTED The Safety 1st Connected App is the only app that empowers parents to create the optimal environment, set the mood, monitor, and comfort their child—anytime, from anywhere. This easy-to-use, family-friendly app seamlessly controls and manages every device in the Connected Suite giving parents the confidence and peace of mind they need to stay connected to their child even when they're apart. The Connected Suite Illuminate Duo includes the two key pieces necessary to start building the smartest, most comforting room in the house.
ALWAYS BE BY YOUR BABY'S SIDE WITH THE WIFI BABY MONITOR HD live stream. Crystal clear night vision. Fully encrypted. Customize motion sensitivity and sound detection. Two-way talkback.
DON'T WAKE LITTLE ONE Our Under Crib Smart Light gently glows beneath your little one's crib or bed, so you won't wake them during check-ins. Automatically activated with a built-in motion sensor. Customize lighting brightness and colors or select from six recommended lighting pre-sets.
Product Information
Wi-Fi and app-controlled
Adjustable LED color and brightness
Quiet operation with digital controlsB23
Night light and sound machine
Stream crystal clear 1080p HD video while using less data.
iOS & Android Compatible
Voice control works with Alexa or Google Assistant