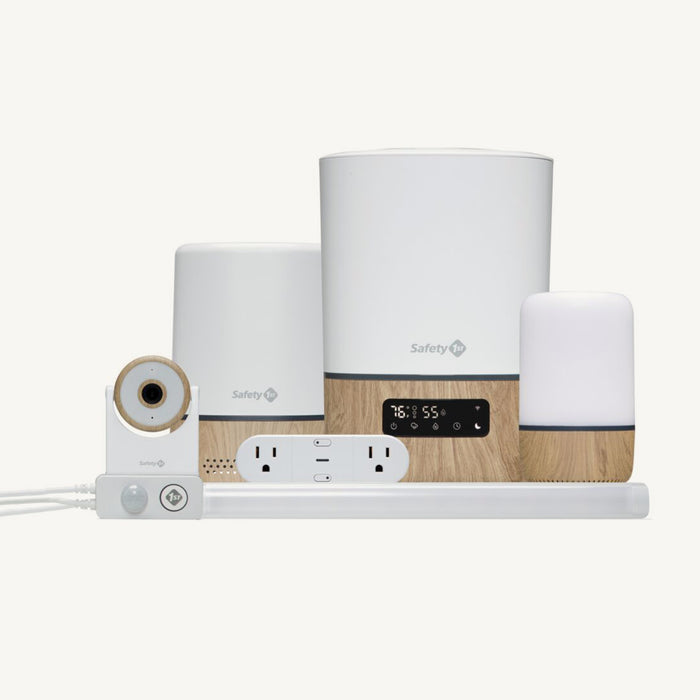 Safety 1st Connected Suite
 (Monitor, Humidifier, Sound machine, Crib light, Outlet, Air Purifier)
The Safety 1st Connected App is the only app that empowers parents to create the optimal environment with minimal effort from high-tech premium features; from setting the mood, monitoring your baby, and comfort their needs—anytime, from anywhere. This easy-to-use, family friendly app seamlessly controls and manages every device in the Connected Suite, giving parents the confidence and peace of mind, they need to stay connected to their child, and the response-ability, even when they're apart.
The Full Connected Suite Bundle features all 5 items under the Safety 1st Connected Nursery Suite: with 1080P Wi-Fi Baby Monitor | Dual Smart Outlet | Under Crib Smart Light | Smart Humidifier | Smart Baby Soother
iOS & Android Compatible, and works W/Alexa, there isn't much room for failure! Experience the full Safety 1st Connected Suite today, for your healthy dose of helpful, convenient, connectivity. You won't believe your parents did it any other way!
ALWAYS BE BY YOUR BABY'S SIDE WITH THE WIFI BABY MONITOR HD livestream! Crystal clear night vision helps you to see better! Fully encrypted so you can have the peace of mind of a secure connection. Customize motion sensitivity and sound detection. Two-way talkback feature helps to comfort baby in the vent he / her cries when you need to be in two places at once.
MAKE MOST ELECTRICAL DEVICE'S SMART! The Dual Smart Outlet allows you to control almost any electrical device (from lamps to bottle warmers) by making Independently powered and managed with the touch of your smart device. Set a timer, manage a schedule, or create a custom routine. Up to two electrical devices can be plugged into the Dual Smart Outlet. When not in use, cover unused outlets with Safety 1st Plug Protectors (included).
DON'T WAKE THE LITTLE ONE! Our Under the Crib Smart Light gently glows beneath your little one's crib or bed, so you won't wake them with pesky buttons on overly bright baby night lights during check-ins. Automatically and handsfree!  A built-in motion sensor the light activates upon your approach to the bed side. The ability to customize lighting, brightness, and colors or select from six recommended lighting pre-sets will be sure to fit you, and your growing baby's room theme for the years to come!
THE SMART HUMIDIFER YOUR HOME NEEDS! Feel confident that your child's room always has the ideal humidity level and help keep their throat and nasal passages hydrated with our Smart Humidifier. Top-fill tank with one gallon (3.8L) capacity can run uninterrupted for up to 24 hours! Touch display with humidity and temperature indicator allows you to monitor room temperature and humidity level.
SOOTHE YOUR CHILD ANYTIME, FROM ANYWHERE! The Smart Soother creates a perfect sensory experience using soft lights and sounds to help your child fall asleep even on nights where they would do everything but. The Safety 1st Smart Soother nightlight and sound machine is fully equipped with 20 lullabies and soothing natural sounds. Customize your level of light brightness and choose from limitless color options or white light for the perfect ambience that soothes your baby.
Product Information
Wi-Fi and app controlled
Adjustable LED color and brightness
Quiet operation with digital controls  
Night light and sound machine
 Stream crystal clear 1080p HD video while using less data.      
iOS & Android Compatible Voice control works with Alexa or Google Assistant