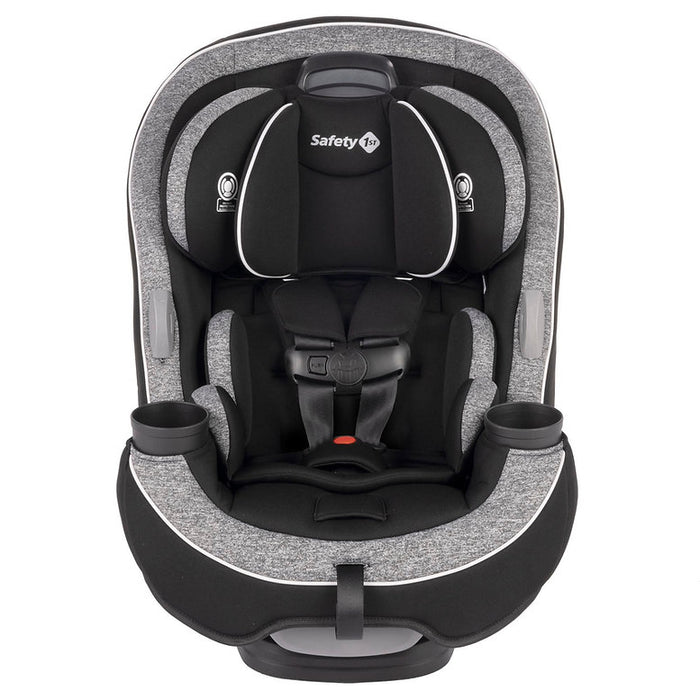 Safety 1st Grow and Go ARB
Get the car seat that's built to grow! From your first ride together coming home from the hospital to soccer day carpools, the Safety 1st Grow and Go™ All-in-One Convertible Car Seat will give your child a safe and comfortable ride.

Built to Grow Through Three Stages 
The Grow and Go™ All-in-One Convertible Car Seat is designed to last through all your firsts with your child, from 5 to 100 lbs (2.3 to 45 kg) and can be used in rear-facing, forward-facing, and belt-positioning booster mode.  
As your little one grows, you can easily adjust the headrest and harness in one quick motion, without re-threading the harness or re-installing the car seat.  The crotch strap and harness have multiple adjustment options to fit growing kids. When your child is ready to use the vehicle seat belts, buckling is made easy with the visible belt path guiding the way.

Parent-Friendly Design 
As your tiny baby grows into a big kid, messes are bound to happen, but we've made cleaning easy. The seat pad snaps off easily without removing the harness and is machine washable and dryer safe. Dual cup holders transport favorite drinks and snacks and are easily removable and dishwasher-safe. Getting kids in and out of the car is made easier with harness holders that keep harness straps out of the way. 

Comfort and Safety in Every Ride
Built for child comfort, the Grow and Go™ Convertible Car Seat includes two removable grow-with-baby pillows to give your new travel companion a snug fit. Recline angle indicators on the seat lets you find a safe angle position for rear-facing mode and multiple recline options means kids are comfortable for any ride, even in forward-facing mode. 
The Grow and Go™ Convertible Car Seat provides more comfort for parents too, taking up less space when placed rear-facing, for more legroom for parents in the front seat.
Product Information

The car seat built to grow! For extended use through 3 stages: Rear-facing 5-40 pounds (2.3-18 kg), Forward-facing 22-65 pounds (10-30 kg), and Belt-positioning booster 40-100 pounds (18-45 kg)
One hand adjustable headrest.
2 removable, BPA free, and dishwasher safe cup holders. QuickFit™ Harness for easy adjustment of both harness and headrest in one simple step.
5-point harness with up front adjustment.
Side Impact Protection
Harness holders: with the harness held back, it's easy to get your child in and out of the seat
3-position recline makes it easy to get a good fit in your car
The padded Anti-Rebound Bar (ARB) adds an extra measure of safety in rear-facing mode by preventing the car seat from over-rotating in the event of a sudden stop or crash.
Grow-with-baby pillows for a comfortable ride.
Meets or exceeds all Canadian regulatory safety standards and includes a one-year limited warranty
Universal Anchor System (UAS) equipped for quick attachement and removal
Certified for aircraft use when used with the internal harness