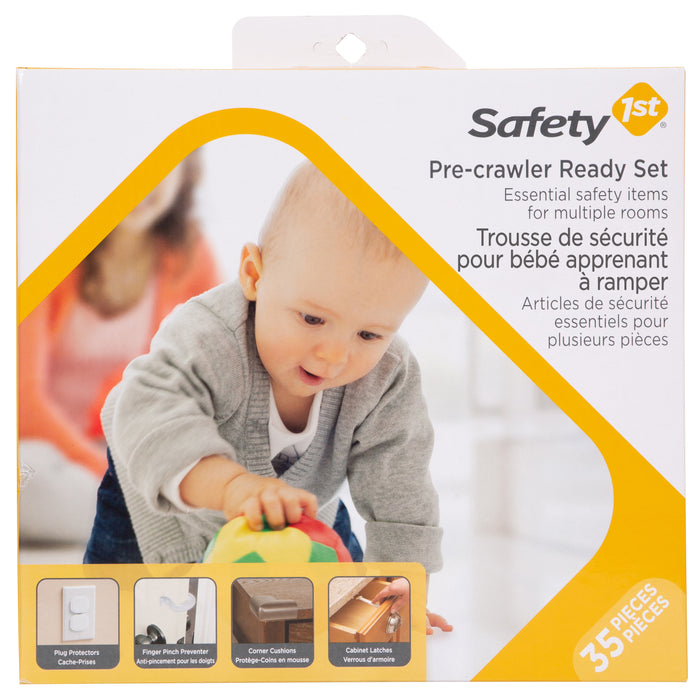 Safety 1st Precrawler Ready Kit
And other food that children shouldn't have easy access to. Install Latches on cabinets or drawers. These helpful devices help keep curious children from getting inside. Safeguarding your home with the Pre-Crawler Ready Set before baby starts exploring will allow you to enjoy every moment even more.
If your baby starts to crawl, crawl, roll, rock or wiggle all over the place, it's time to protect him with Safety 1st's safety kit that will give him a safer space while he's explore. Smooth, hard-to-grip, opaque color outlet covers prevent access to unused outlets and go unnoticed. Open doors between bedrooms are easy for little hands to reach, and an anti-pinch feature helps protect little fingers from doors that suddenly close. Coffee tables and other furniture are other tempting targets for your little explorer . Using corner guards will prevent him from getting hurt. Cabinets hold cookies, snacks and other foods that children should not have easy access to. Install latches on cabinets or drawers and these very useful items will prevent toddlers from opening them. Securing your home with the Safety 1st Safety Kit before baby starts exploring will help you enjoy every moment more.
Product Information
Includes 35 safeguarding aids to help create a safe environment for crawling baby

20 Plug Protectors for preventing access to unused outlets

10 Cabinet & Drawer Latches to help keep items inside away from curious children

4 Corner Cushions to soften furniture corners and help prevent bumps and bruises

1 Finger Pinch Preventer to help protect little fingers from gaps in open doors
Contains 35 items to create a safe environment for a crawling baby

20 socket covers to prevent access to unused sockets

10 cabinet and drawer latches to keep contents away from curious children

4 corner protectors to soften furniture edges and prevent bumps and bruises

1 anti-pinch device to protect little fingers from unexpected door closings