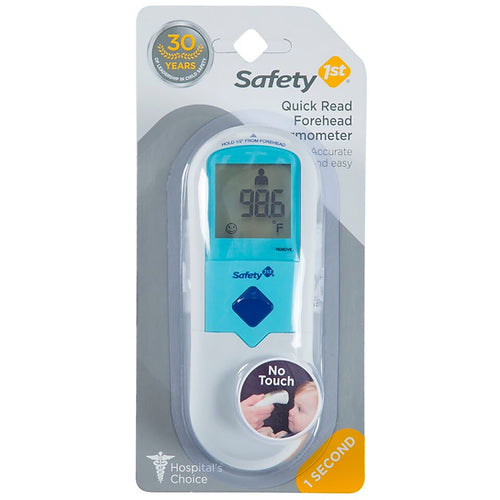 Safety 1st Quickread Forehead Thermometer
This item ships in packs of 3. 
The Quick Read Forehead Thermometer by Safety 1st is the easy way to get fast, accurate temperature readings. When your child is sick, you want to know quickly whether they are running a fever. With the Quick Read, simply position the lens at center of your child's forehead and then press the button to take reading. It's really that easy! In just one second, you'll hear the beep that lets you know the reading is complete. The temperature displays in large numerals and there are two easy-to-understand fever icons to let you know right away if your child's temperature is too high, or within the normal range. Taking readings when child is sleeping is easy too. The no-touch method means there's no need to wake your child up when you want to check in and see if their temperature is stable.
Product Information
Quick Read thermometer with accurate reading in 1 second ( DegreeF or DegreeC)
No touch, Won't wake sleeping child with fever icon for high temperature
Large display and memory recall of last reading for handy reference
Suitable for child, birth and up
Auto shut-off and includes 2 "AAA" batteries