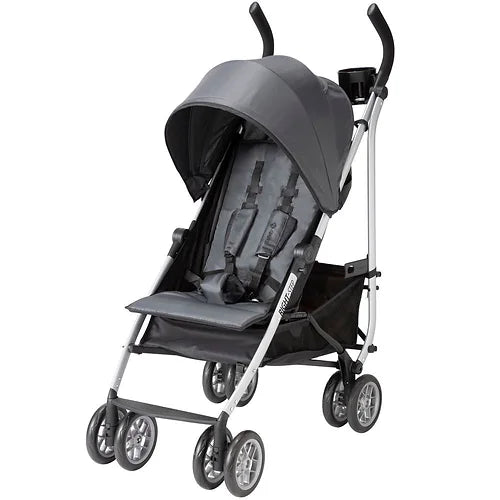 Safety 1st Right Step Compact Stroller
Now that you're a parent, what could make your life simpler? With parenting comes a lot of responsibilities so why not reduce the load? The Safety 1st Step Lite Compact Stroller helps to do just that, offering a space-saving size and plenty of storage room.
Lightweight aluminum frame and a breeze to carry, at only 15 lbs.
Folds quick and compact for easy storage     
Extra-large canopy provides added sun protection     
Peek-a-boo window offers a quick look-in     
Extra-large storage basket for accessories     
Plush foam handles for a comfortable grip     
Extra-large cup holder installs "inboard" to minimize total stroller width     
Padded harness and crotch strap covers
Lightweight, with a sleek profile and inboard mounted cup holder, Step Lite zigs through a crowd easily – or zags if you need to!
With the extra-large canopy, your child will sit comfortably in the shade even on the brightest days.
For those moments when you just want to have a quick look at your child, the peek-a-boo window gives you an easy view and it provides better airflow as your little one enjoys the ride.

Stressed about having room for that gigantic diaper bag, or snacks to prevent a meltdown in the store? The Step Lite has plenty of room for everything you need along the way. You can fit a diaper bag and a whole lot more into this basket!
Want easy access to your phone and wallet? We've thought of that, too! The covered pocket near the handles keeps small personal items, handy but out of view.
The Step Lite includes one HUGE cup holder. It holds a super-size ice coffee, and you can choose to attach it on the right or left side of the stroller.
Generous padding in the seat and on the straps make for smooth cruise-ability.
If your little one starts to get drowsy while you're out and about, the seat reclines, and easily adjusts with one hand.
Step Lite is right sized and approved for theme parks – and ready to greet favorite characters along the way.
There are no pesky clips on the sides of this canopy.  So, no worries if you fold this stroller while the canopy is extended. It'll just fold up with the stroller – easy peasy.