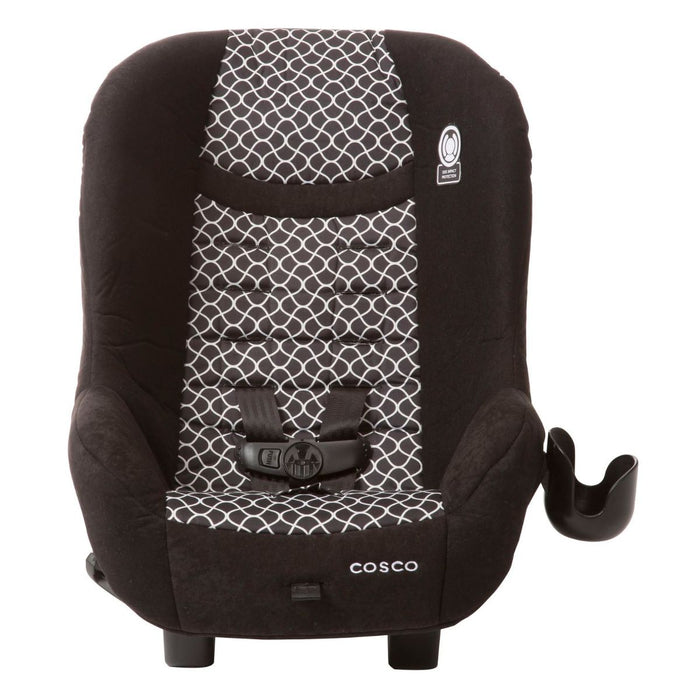 Cosco Scenera Next Convertible Car Seat - Otto
The Cosco Scenera NEXT is simply a smarter car seat - designed for families who know what they need. It keeps kids safer with Side Impact Protection built into the headrest and a five-point harness that adjusts easily from the front of the seat. The harness features five heights and three buckle locations so you can be sure you're giving the best fit to your growing child. If your chosen vehicle happens to be an airplane, the Scenera NEXT has got you covered. Certified for use on aircraft, it gives your child a familiar seat during the flight. The lightweight and compact design also gets you through the airport without weighing you down. With kids in the car, masses happen. Now, thanks to the easy-to-clean car seat pad, there's no need to stress. The pad comes in a wide range of styles and colors, all of which remove from the seat and are both machine washable and dryer safe. There's also no more scrubbing goopy build-up from inside the cup holder; it's dishwasher safe.
Families who know what they're looking for will be won over by the Cosco Scenera NEXT smart car seat. Your child will be safe thanks to the side impact protection system built into the headrest, as well as the 5-point safety harness that adjusts from the front seat. In addition, the harness, equipped with a three-hole buckle, can be positioned in 5 different places, thus adjusting more easily to the growth of your child. are you traveling by plane? The Scenera NEXT is for you. Your child will be able to fly from the comfort of a familiar seat since it is certified as aircraft compliant and its lightweight and compact design won't slow you down at the airport. With children in the car, damage cannot be avoided. Now you can travel in peace with the easy-to-clean cushion. Indeed, it is removable and can be machine cleaned, in addition to being available in a wide variety of styles and colors. Don't worry about the dirt that collects in the cup holder; this one is dishwasher safe.