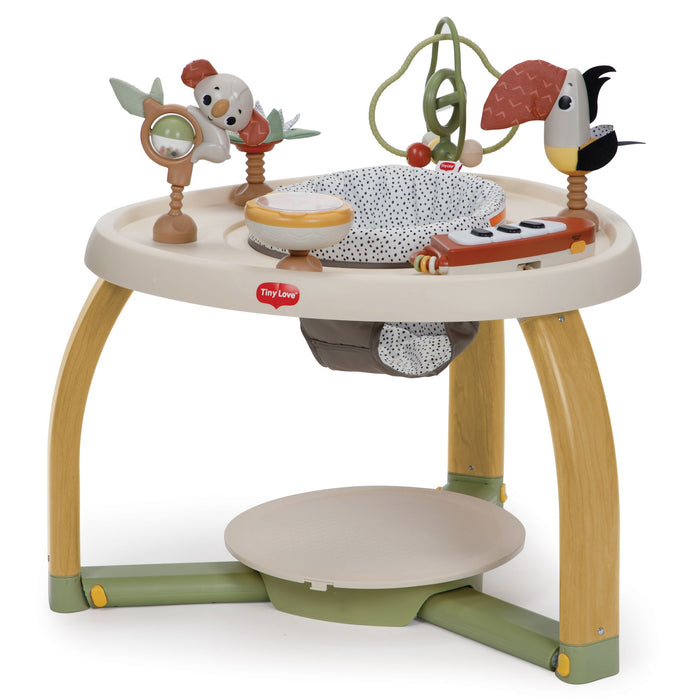 Tiny Love 5-in-1 Here I Grow Activity Center - Boho Chic
A world of wonder awaits in the Tiny Love 5-in-1 Here I Grow Stationary Activity Center. This 5-in-1 mobile activity center encourages baby's development, with fun and engaging activities that spark wonder & curiosity that inspires them to learn and grow.

The Here I Grow can be used in 5 different modes as baby develops. Tummy time lets infants engage and play with toys on the floor. For babies who are learning to stand upright, the sturdy footboard helps with balance. As baby becomes taller, the footboard can be removed.

A 360-degree rotating seat allows baby to fully explore their surroundings and be part of the action. Plus, baby will always be entertained with 6 developmental toys and more than 21 activities to keep them engaged! The playful beads maze with rotating mirror help develop social & emotional connections by drawing the baby's attention to their own reflection while the crinkle multi-textures lily toy stimulates your baby's senses.

For even more playtime fun, it turns into an activity table! Once the baby has outgrown the developmental toys, the activity center can then be used as a cute table with a chair for art projects or other fun activities as they continue their learning journey

The 5-in-1 Here I Grow Stationary Activity Center comes with a complimentary set of month-by-month milestone cards - a wonderful way to create adorable keepsakes that celebrate your baby's growth. Simply flip the card to discover a useful tip that will help you learn more about your baby's development at that stage.

The 5-in-1 Here I Grow Luxe Stationary Activity Center unlocks the baby's imagination and inspires a journey of growth and discovery.
Product Information
5 Modes of use: Tummy time, stationary activity center, baby balance board, toddler activity table, child table and chair
Baby balance board platform transforms into stool 
Sleek, modern design compliments many areas it may be set up in    
6 interactive toys, including Take along electronic musical piano with lights and sound
Toys remove for tummy time play away from the activity center   
360-degree entertainment with Swivel seat    
3 -Height adjustable legs  
Month-by-month milestone cards