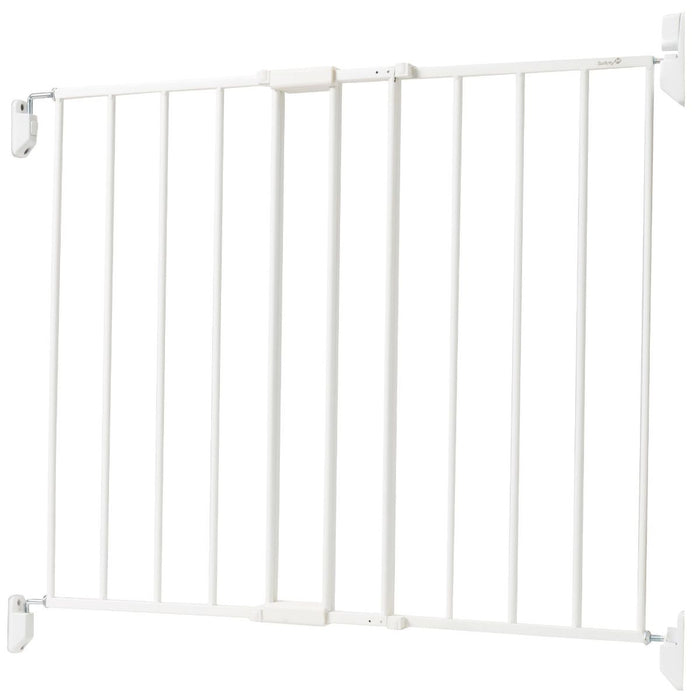 Safety 1st Top of Stairs Metal Decor Swing Gate - White
Keep your curious cruiser inside child-friendly areas with the Safety 1st Top of Stairs Metal Gate. This bronze metal baby gate complements your home while keeping baby safely inside, or out of, certain areas. As a hardware-mounted gate, this gate is ideal for use at top of stairs, but can also be used at the bottom of stairs and between rooms for maximum versatility. The frameless design ensures that the walkway is completely clear when the gate is open and there is nothing to step over, preventing any potential trip hazards.
This gate is specially designed to be operated with one-hand, because we know parents often have their hands full. Easily open the gate by rotating the release lever and lift to swing out of the way. The sturdy hinges allow the gate to be set to swing open in one direction only for top of stairs use, or in both directions which is perfect for between rooms.
This ability to choose provides you with added convenience and protection. The adjustable gate stop ensures that the gate can swing only one way for safer top of stairs use. Additionally, the one button release on the hinges makes it easy for you to remove the gate during periods of non-use.