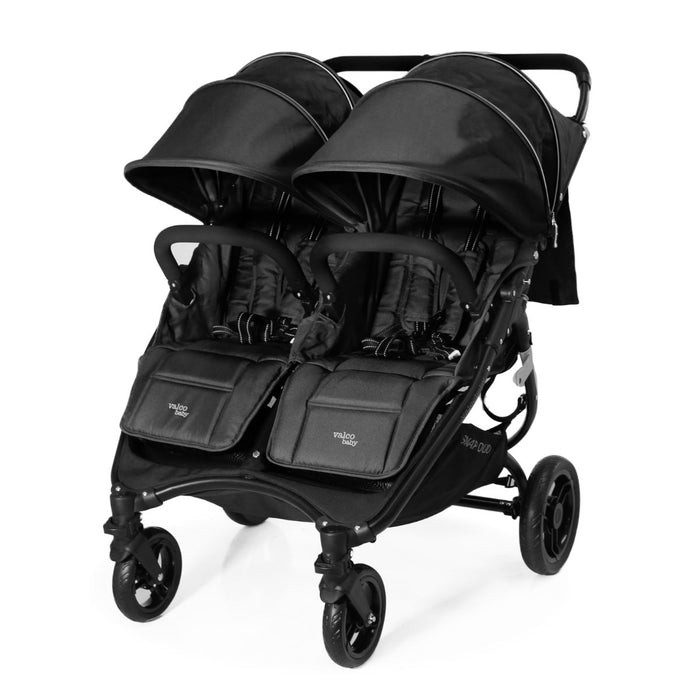 Valco Baby Snap Duo Stroller
Nothing beats the Snap Duo when it comes to a lightweight and compact stroller for two.
Independently reclining seats and easy fold make the Snap Duo the goto double for parents on the go!
Features
Perfect Travel Companion: Ultra-lightweight frame & handy shoulder strap makes this stroller a go to for all trips.
Converts to a Travel System: The Snap Duo Trend is infant car seat compatible.
Smooth Ride: With larger than usual 'lightweight' wheels the ride is oh so smooth, even fully loaded.
Full reclining seat: Ideal for snoozing newborns and older children.
Ultimate Nap Space: With a full torso flat recline and adjustable footrest the snooze room is luxurious.
Auto Fold Lock: Automatically secures the stroller in place once it has been folded.
Standing Clean Fold: Stroller folds into itself to keep seat fabrics clean & hygenic. Once folded can stand on its own!
Super Canopy Coverage: Zip out fabric & UV mesh panels in the hood offer retractable extended hood coverage.
Included belly bar!
Adjustable Handle
Adjustable Footrest
Specifications

Stroller Open - 29W x 32L x 41.5H
Folded - 29W x 27.5L x 17.5H
Folded Wheels Removed - 29W x 26L x 13H
Seat Area - 11.5W x 7.5D x 19H
Adjustable Handle Height (3 positions) - 1) 38.5 2) 41.5 3) 43in.
Adjustable Footrest Height (4 positions) 13, 15.5, 21, 25in.
Basket Dimensions (inches) - 25W x 17L x 13D
Stroller Weight - 24lbs.
One year warranty, covers all manufacturing defects. Must register to receive warranty.